PICK THE RIGHT COLOR FOR YOUR COMMERCIAL PROPERTY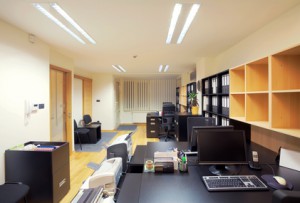 Ever walk into a room and instantly feel a certain way? You may ask why that is. Good question. Maybe it's the arrangement of the furniture, or perhaps a collection of art on the wall, or even the perfect rug to accent the floor. It's More than likely, however, the color of the walls. We're all aware of the strong connection between color and feelings. You've heard familiar sentiments such as, "I'm so blue", "She was green with envy", or "He was scared yellow". Business owners understand that clients respond to colorful walls as soon as they walk through the door, which is why strategic planning is paramount prior to the first brush stroke of an interior commercial painting project.
Your Experienced Commercial Painting Specialists
Brand Construction Services has performed numerous Houston Commercial Painting projects over the last 10 years for business interiors all throughout Houston. We know that business owners choose colors that accent their business image. With that in mind, we've done our research and have discovered the relationship between colors and moods. Keep this mind next time you launch that next painting project with Brand Construction Services.
Tones, Colors, and Moods
Blue – Productivity, Business, Motivation. Often a good color for home or business office. Why do you think businessmen often wear blue ties, shirts or suits?
Green – Meditation, Tranquility, Sleep. Great for the Bedroom. Green is also associated with health and fitness.
Pink – Calming, Soothing, Peaceful. Often associated with young girls' bedrooms.
Yellow – Liveliness, Energy, Brightness. The most common room? You guessed it, the kitchen. The room often associated with the ongoing activity.
Lilac – Other colors may include Lavender or mauve. These softer shades of purple often invoke a sense of calmness and a soothing feeling. It's pink for adults!
Red – often linked to aggression, it's provides the perfect palette for the palette as it encourages a healthy appetite. Try red in your dining room and watch everybody clean their plates!
Strategic Interior Painting
It is vital to remember that colors and tones by themselves do not create the entire platform for an environment. They only set the backdrop. Other things to consider are natural lighting, artificial lighting, room location, furniture, wall décor, carpeting, and wall design.
Consider this: Next time you walk into a restaurant, a store, a salon, a coffee shop, computer store, florist shop, or any other business in Victoria, ask yourself "What feeling overtook me the second I stepped into the environment?". Notice how the store was strategically decorated to stimulate an emotion in order to stimulate you to action. More importantly, observe the colors on the wall.
Next time you are choosing the right color for your bedroom, restroom, kitchen, living room, or office, it is important discuss with your Brand Construction Services Contractor how you want your clients to respond to the paint while they're in the room and what actions moods do you want that color to trigger. Do you want to customers to feel at ease or do you want them to be energized! Mood is color and color is mood.
If you need to hire a professionally licensed commercial remodeling contractor to construct an office addition in Friendswood, call Brand Construction Services today at 1-281-724-9652 or complete our

Online Request Form

.