COMMERCIAL RESTROOM REMODELING TIPS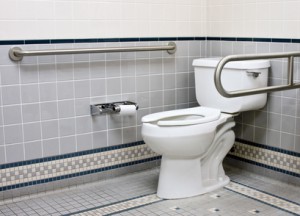 As a smart business owner, you know the importance of a clean, well-designed restroom that is easily accessible. Every business is evaluated by the quality of its restrooms. It tells your customers and staff that you value them and are willing to go the extra mile to insure that they're experience in every part of your business was pleasant and exceeded expectations.
Therefore, when remodeling your restroom, it is vital to consult with the creative design team at Brand Construction Services in Houston. We can transform your old drab restroom into a comfortable stylish facility that will impress your clients and employees alike. We partner with you through every phase of restroom reconstruction from initial concepts to final finish to insure your satisfaction.
It's All about Details
Below is a working list of things you will want to consider as you prepare for your upcoming Houston Restroom Remodeling project. We want to help you get it right the next time. Read below, take some notes, and contact us at Brand Construction Services. We can get you started today.
Style & Consistency – Since your entire commercial interior has a uniform theme throughout, you want to design the restroom to match the rest of your theme. Although the restroom is rarely seen as a vital part of your business image, it is as important as every other room in making a lasting impression to your clients of who you are and what you are about.
Safety – Although style is an important factor when designing your bathroom, safety is the most important element. Everything from flooring traction, sturdy toilet construction, and spaciousness to sanitation and proper draining, your entire restroom needs to be an environment that patrons feel safe in.
Flooring – Chances are the tiling in your restroom may or may not cover both flooring and the walls. The options are endless. Regardless of whether they cover your entire bathroom or just the floor, the tile floor will make a noticeable statement. There is a lot of flexibility with tiling that ranges from the simple uniform colored squares to elaborate modern and ancient designs. Another very important item to note with tiling is that it must be installed and properly sealed by an experienced company. Water will always be a factor in restrooms. Sealed tiling combined with proper draining keeps moisture from getting into your walls. It also makes restrooms easier to clean and sanitize.
Total Restroom Area – As we mentioned earlier, customers like to experience absolute comfort while visiting a commercial restroom. Building a restroom as spacious as your property will allow is ideal. You also want the ability to accommodate peak moments in your business when the greatest amount of traffic enters and exits. Restrooms are about convenience as much as style.
Accessories & Amenities – The entire premise behind a public restroom is to get in and get out. How durable and dependable your supplies and accessories are will help determine this. Although it's tempting to cut corners with restroom accessories, it's better in the long run. Commercial restrooms get a lot use. Investing in durable, long lasting accessories which also provide the highest level of sanitation is preferred. This will relieve you of ongoing repairs and replacement down the road.
If you are looking for a professional commercial Houston Restroom Remodeling contractor in Houston or the surrounding southeast Texas area, then please call 1-281-724-9652 or complete our

Online Request Form

.