Choosing Colors For Your Commercial Painting Project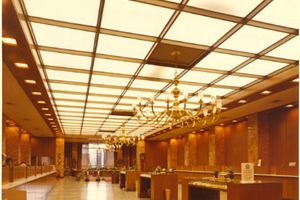 Making the decision to paint the interior of your commercial building is always a good idea. Besides making the walls cleaner, fresh paint helps change the atmosphere. The change can be as subtle or as drastic as you'd like, which is why choosing the right colors is so important. When you work with a professional commercial painting contractor, they should be willing to give you advice and feedback about color options. However, before agreeing to paint your facility, it's time to think about what colors can do to the look and feel of your workspace.
Choosing The Right Paint Colors For Your Building's Interior
Every part of your building should get some thought. To make your building interior flow well and keep productivity high, there's a lot of planning involved. From your breakroom remodeling to the colors you select for painting the offices, every detail matters. The type of business and commercial building you have does play a role in the colors you should choose. However, there are some general guidelines to consider when choosing paint shades for a commercial environment:
First, the color selections you make will depend on whether your building sees customers or not. You can make very different choices if the primary goal is to appease and motivate employees without worrying about customers.
Remember that you don't have to pick just one color, and accent colors can help change the ambiance dramatically.
Know which colors are calming and which are inspiring. For instance, while red is a great power color, it can be overwhelming to use for an entire room. An accent wall in a meeting room could work but probably wouldn't be suitable for an employee work area.
Get staff feedback. While you may be able to make the ultimate decision, if you can incorporate staff requests, it will go a long way to help with motivation and morale.
Choosing The Right Company For The Work
Besides choosing the right color, you also have to pick the right professional to do the work. Brand Construction Services is committed to excellence, and that includes consultation services for our clients. We want you to be happy with the process from start to finish. Once we leave, we know you'll love our painting work, but we want you to continue to be happy with your paint color selections. For painting contractor work in Houston that positively impacts your business, call our team of experts for superior service.
If you are looking for a Houston commercial construction company, give us a call today at 1-281-724-9652 or complete our

Online Request Form

.